If you're short on time or don't want to read the full review, I made a summary of pros and cons with a 7 day free trial linked at the bottom of the post. Please note that I'm not affiliated with Pimsleur but am giving my review of their program and methods after 7 days using it myself.
Zdravstvuyte vse! (…which means "hello everyone" in transliterated Russian.) To start this post off, here's a quick history of my Russian-learning and Pimsleur knowledge:
A few months ago, my mom first brought Pimsleur to my attention. She has used it for learning some Hebrew and has been happy with it, and after hearing some of my complaints and hurdles with language-learning, recommended I check it out.
Throughout my learning experiences I've been reluctant to pay for a course, tutor, or class, determined to make it as far as I could on free materials and apps such as DuoLingo, Drops, Memrise, YouTube, library books, articles, etc. Using these methods, I've learned roughly 1200 words (with terrible grammar) in an inconsistent, self-taught 6 years, and struggled with speech, despite my basic fluency with some writing and most reading comprehension.
I have to say, however, that I never liked the learning format that many language apps offered, finding their methods unnatural, messy, and disjointed. It felt like they were lying to me about my abilities, making me feel accomplished after a quick and easy lesson without actually teaching me much, especially things that I can use. From what I could tell, the problem was clear: it wasn't enough time. It wasn't enough vocabulary. It wasn't enough to submerse, to practice, to retain. So while you spend 5-30 minutes a day (assuming you're consistent) on, say, DuoLingo, and feel happy with your progress within the first few months, you've still only learned 10-50 words, very little grammar, little-to-no speech, and almost nothing to form a cohesive sentence. Frankly, I believe getting a dictionary or using an online translator with some discipline could teach you the same, if not better, than DuoLingo.
The allure of Pimsleur to me — from the first time I heard of it to now — was the way it worked with your brain to teach you many aspects, all at once, and in a small span of time. It teaches languages, as I've said I've wanted to family and friends, like a child would learn their native tongue: listening, speaking, then realizing your mistakes through repetition and even more listening. Although I could easily just be ignorant, I didn't know that anything like it existed for such a good price, yet alone so easily accessed and used… until Pimsleur.
From my first lesson I was impressed that I was able to say full sentences to form a short conversation. Although I've had a few years of casual and off-and-on learning already, my ability to retain the information from day 1 with this course felt really good, and I was excited to know that in 30 days I could go from stuttering and unconfident in my speech, pronunciation, and grammar to being able to hold a solid conversation…. did I mention it takes mere weeks, rather than the months or years I feel we've all been led to believe? (That is not to say that language-learning doesn't last a lifetime, because you're always learning new words, even in your native language; I simply mean that you can go from knowing nothing to reading, typing, and being conversationally fluent in 30-60 days.)
In the week since I started, they have taught me sentence patterns, 50-55 words in several grammatical instances (male and female, grammatical case endings, etc.), taught proper pronunciation, and offered reading exercises, flashcards, and more. As a side note, I also discovered that they had room for multiple users on one account, so while I can learn Russian and have my progress uninterrupted, my sister can use the same membership to get going in her Korean studies with their free starter lessons, or another family member could go through the same Russian courses me without affecting my progress.
Another thing I like and appreciate is that you can learn on the app or on a browser with the same experience, so while I like to learn on the app, my sister wants to use her computer to learn, and both work great! You can also learn with Alexa (which I don't have, but sounds like a neat feature), so you can say, "Alexa, start Pimsleur," and she'll begin the audio while you clean your living room or whatever. Lastly, you can download the lessons to your phone app to use in the car or on a walk without using wifi or data.
"So," you may be asking, "what all do they teach?"
In the first week, they've given me a solid start in
Listening comprehension (in words, phrases, and full conversations)
Vocabulary
Speech proficiency
Pronunciation proficiency (rhythm, accent, and cadence)
Reading
Phonics
And in the same, single week I've daily received
The 30 minute audio lesson (with review, grammar and pronunciation tips, introduction to Cyrillic letters, and useful conversational vocabulary, speech, and listening)
Flash cards (with audio for more listening and pronunciation practice, and these offer vocabulary that wasn't covered in the lessons for even more vocabulary learning)
Phonetic readings (again, with audio)
Quizzes
And a thing called "Speed Round," which challenges you to quickly match text with meaning (like a fast-paced DuoLingo)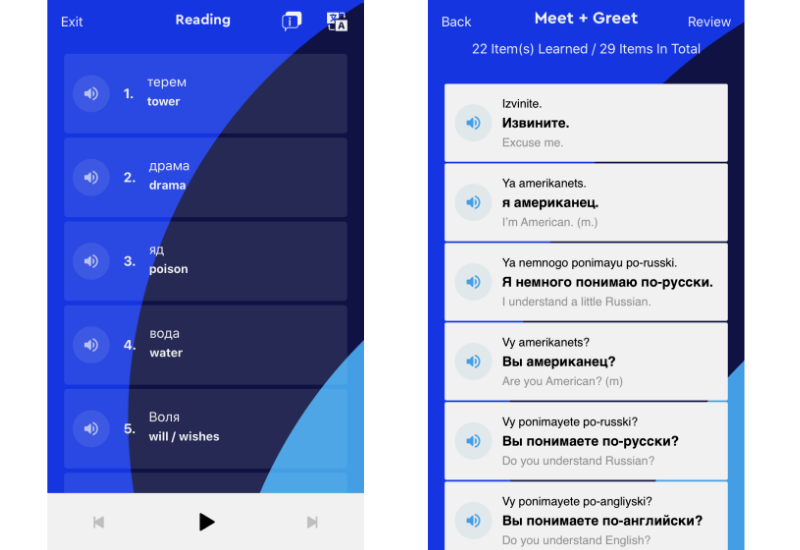 I'm both beyond impressed and beyond pleased with this program so far. That said, with literally everything, there are cons, the first of which being time.
You have to really want to learn a language to learn it, because it's a large investment of your time and mental energy. Yes, the audio lessons are 30 minutes apiece, but I find myself skipping back 10 seconds at a time to listen to a phrase again, or pausing to familiarize my mouth with the sounds of a word before moving on. I'd say I take 35-40 minutes to get through an audio lesson, and then come the bonus exercises. Now, while these exercises are not required and the bulk of their learning is in the audio lessons, the exercises will not only help you to read and visualized words, but also to practice further and submerse yourself for longer in your target language. When I do every exercise the app offers for the day, it's takes me 45-70 minutes per day for my Russian learning, and it's possible for it to take longer, depending on your language capabilities, mental energy levels, learning style, and the language you want to learn.
Lastly is a con I don't personally struggle with but, depending on where you're from and what your background is, you might: the audio, the readings, and everything else are all from an English perspective, then translating into your target language. For example, the man in the audios will say, "The Russian word for 'please' is 'Pozhalusta,' and the word for 'thank you' is 'Spasibo.'" Now, I'm not tri- or multi-lingual, so I can't say for certain, but I believe I would find it difficult to learn Russian using Pimsleur if my first language was, say, Spanish, and I wasn't totally fluent in English. However, depending on your English fluency, this may not be an issue for you at all. I only want to bring it up and mention it before you pay for the course.
To summarize, I've found Pimsleur is a fantastic course so far and, even in only the first week, has been well-worth the money (and that's coming from someone who put off buying things for several years).
The pros are:
Affordable
Easy to use
Works with your lifestyle, teaching you on your phone, computer, at the library, in the car, offline, and so on
Teaches you in the same way a child would learn for efficiency and effectiveness
Teaches listening comprehension
Teaches a lot of vocabulary in a short period of time
Teaches subliminal grammar
Teaches sentence structure
Teaches speech proficiency
Teaches pronunciation proficiency
Teaches reading
Teaches phonics
Has flash cards
Has quizzes
Has the ability to have multiple users with affecting one another's progress
And the cons:
It is a paid program
You have to have the time, consistency, discipline, focus, and energy for 30-60 minute daily lessons for a minimum of 30 days
It's possible you may struggle learning a new language from an English perspective if English is not your native language
As a final note, I used a "first 7 days are free" deal told to me by Pimsleur's email newsletter, but you can get the same deal here from my "refer a friend" link. I'm happy to answer any other questions you may have about Pimsleur. I'd like to add that I'm not affiliated with Pimsleur or any other language program I've mentioned in this post; I'm just a girl who wants to learn Russian and help you all reach new horizons and discover new cultures while I'm at it!
Disclaimer: No matter what program you use, you will never become as fluent as you would by moving to a new country and using the language full-time. Every language app, program, course, tutor, and class will have its ups and downs, and not every program works for every person (due to learning styles and backgrounds). If you are unsure about a paid program, research multiple opinions online, and try to take advantage of sales and deals (like the one I link above). There's no perfect miracle program, and no matter what method or program you use, you can learn better and faster with multiple sources of study and practice. It's all in how you want to learn. Do your best and have fun!